Trijicon sro
Trijicon sro (Specialized Reflex Optic) is designed with a maximized field of view and a clean, crisp red dot that deliver improved pistol accuracy in competitive-shooting and target-shooting applications. It's also engineered with Trijicon's legendary durability, so it can withstand abuse on and off the range. The wide field of view and clean, crisp dot make it easy for users to find and track the dot in both target and competitive shooting applications, helping improve shooting accuracy and speed. Every SRO features both manual and automatic LED brightness modes. Additionally, a top-loading CR2032 battery provides a 3-year battery life (at setting 4 of 8).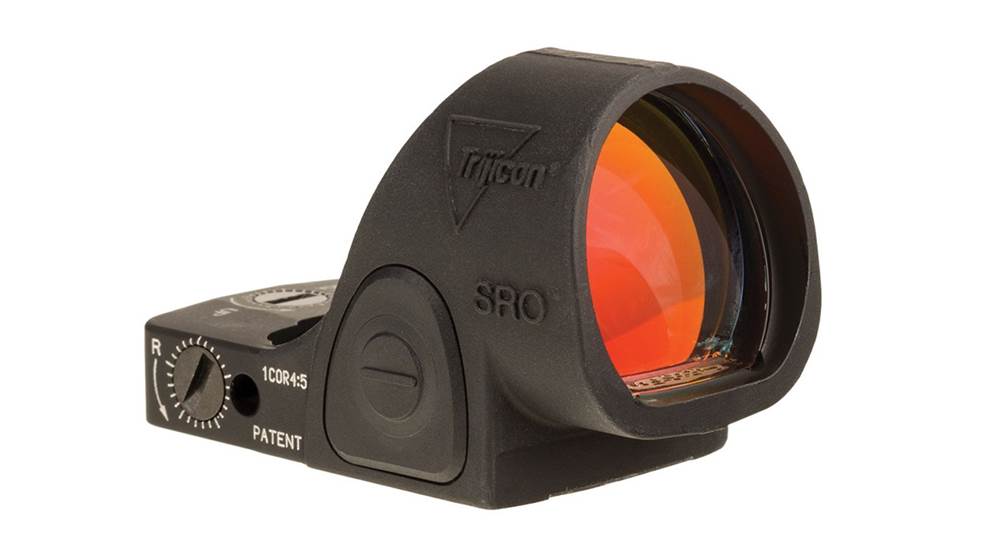 A reflex sight mounted onto the slide of a semi-auto pistol takes a serious beating. The G-forces created by the rapid rearward acceleration upon firing, the sudden stop at the end of the slide travel, the sudden acceleration forward to battery, and the abrupt stop there, do some very unkind things to delicate internal electronic components.
The series of RMR compact reflex sights by Trijicon has earned a solid reputation for surviving the "slide ride." The RMR on my S&W M&P C.O.R.E. has run over 7,000 rounds without a hiccup. However, many RMR shooters (myself included) have wished the sight window was bigger.
In 2019, Trijicon granted our wish with the new SRO (Specialized Reflex Optic).
The Trijicon SRO (MSRP: $749, Trijicon.com) sight window is the same width as the RMR, but replaces that unit's narrow rectangular window with a round window that provides a significant increase in vertical view. The round window measures 0.98 x 0.89 inches. The larger size gives the SRO a weight of 1.58 ounces, compared to the RMR weight of 1.2 ounces.